Most of us spend a lot of time in front of a screen for work and for pleasure, and as awesome as the internet can be, it can get tiring. I've taken what I think are common issues and recommended ways to solve them. I spend a lot of time in front of a computer and this is what has worked for me. Hopefully they will help you too. And if not, scroll down to the bottom to view an article about the most useless browser extensions you should download now.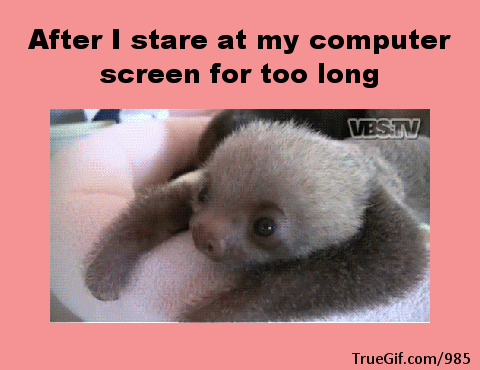 ?If you always have too many tabs open: One Tab
If like me, you usually have loads of tabs open in the hope that you will get back to them and then cry when you accidentally close a tab then One Tab is the browser extension for you.
And best of all, it saves all your sessions so you can go back and see what you had open on different dates.
You can also pin tabs, which allows you to close all tabs except the ones you would like to stay open.
It saves memory so you won't have to get annoyed with slow websites that take forever to load.
Just a word of caution, you need to right click and open in a new tab to open an old tab. Clicking on the item will remove it, which is very annoying.
⏳If you're always distracted by social media or time-wasting websites: StayFocusd
You know that feeling when you need to get work done but you get taken down the rabbit hole that is the internet? Well, now you can block sites as well as limit the amount of time you spend on them with this browser extension, StayFocusd.
Set the days and time frame you want a list of sites to be blocked and you get to decide if you only get 10 minutes per day or none at all.
You can have a list of blocked or allowed sites.
Or go nuclear, which means you can't cancel it once it is activated until the time runs out.
If you find yourself wasting or spending too much time on certain apps on your phone, check out AppBlock which allows you to limit or block apps. You can set a time limit for each app and you can pause notifications. As a rule, I don't get notifications on my phone for social and will only see these when I decide to log into the apps.
?If you want to stay informed but never have time to read marketing news: Zest
I'm always reading articles that relate to my job but sometimes there are so many I just end up bookmarking them and then forget to read them. Available as a website and extension, I use the Zest extension all the time because it pops up every time I open a new tab.
Industry related news that you can search via audio, video, according to shares or link clicks as well as by topic. I often use the SEO topic.
They do have sponsored content, but it is always relevant and good quality. I stumbled across a new company blog that now I read because of it. The content was that good.
Only the best as selected by market professionals. Removes the clutter and you actually end up reading and learning stuff.
?️If you are tired of typing in URLs for websites you visit often: Bookmarks Bar
I use this all the time and when I have to switch browsers, I feel lost because I'm so used to clicking on icon shortcuts.
Here is how to create your very own
Drag the URL to the bookmarks bar
Right click on the bookmark > edit
Delete the name so that the Name field is blank
Click Save
Once done, you'll only see the favicon which lets you add all the important websites and links you visit often
?If you want to learn about a subject: Folders on the Bookmarks Bar
If I want to learn about a subject, I usually create a folder and as I browse I'll usually find articles that I really want to read but just don't have the time to. When I come across articles like this, I add them to my folder and when I am ready to dedicate at least an hour to it, I have enough to keep me busy.
When I wanted to learn about structured data I collected links I thought were relevant and once I had gone through my list, I removed ones I no longer needed and kept the ones I did.
Here's how: Right click on the bookmarks bar > Add folder > Name your new folder > Save. Once added simply drag links into the folder.
SEE ALSO: 5 of the most useless browser extensions you HAVE to download right now