I've just returned from a lovely 5-day break in Mabula with friends which involved playing board games, day drinking gin, lying by the pool, braais and game drives. Also, there wasn't really any signal, so I got to unplug. But now I am back in the land of working wifi and here's what the internet gods have brought you.
? ?Peppa Pig banned on an app in China because it's too gangsta
This news made my week. So apparently Peppa Pig has become a sign of Le Resistance in China. So much so that all references to the British swine and her family were removed from Douyin or the Tik Tok app. Peppa Pig really brings home the bacon, making $1.2bn last year! But wait there's more… apparently, Peppa Pig tattoos are a thing.
"British cartoon Peppa Pig has been blocked on a popular Chinese streaming platform, after the beloved children's character developed a 'gangster' reputation among adults" https://t.co/WMVHDrkGmD pic.twitter.com/OL2no4HtzA

— Luke Buckmaster (@lukebuckmaster) May 1, 2018
Peppa Pig blocked on Chinese video app after becoming a 'subculture icon' https://t.co/PYoCCNRGpc by @mikehwalsh with quotes from me pic.twitter.com/jTEU65FIFL

— 💯Fergus Ryan (@fryan) May 1, 2018
Just think how much money laser tattoo removal parlours will be making in a few years time once the fad dies down. I am so glad my parents were the voice of reason when I said I wanted to get a tattoo. And no it wasn't a tramp stamp. It was worse. I wanted a Chinese symbol on the back of my neck. Even the thought now embarrasses me.
?Facebook is now a dating app
One of my guilty pleasures is watching Catfish on MTV. There is always someone with a fake Facebook profile who has been catfishing (tricking) someone into believing they are someone else. And even with all the technological advancements, the person can never meet or video chat.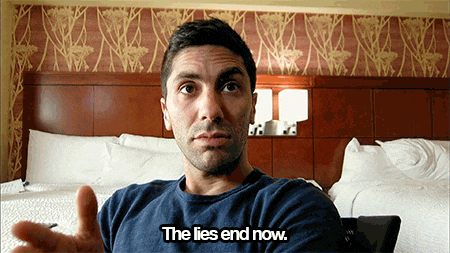 At Facebook's annual developer conference, F8, Zucks announced that Facebook will add a dating app. And don't worry, your friends won't be able to see your profile.
SEE ALSO: 6 reasons that prove Zucks is actually a reptilian overlord
PLUS Instagram and WhatsApp will soon get group video calls. Can you imagine the joys of community WhatsApp groups in video form?
?You know you're cool when…
Imagine banning the world's coolest dog. https://t.co/LIyyRBVZQT

— James Doleman (@jamesdoleman) April 22, 2018
?Give this kid a trophy
Just learned our 9y/o did an experiment on us. Lost tooth, told no one for 3d, kept tooth under his pillow. No $. Then he tells us he lost the tooth, next night there is money under his pillow. Then confronted us with his scientific evidence that the tooth fairy isn't real.

— Rogue Dad, M.D. (@RogueDadMD) April 23, 2018
?Are you playing HQ Trivia yet?
HQ Trivia is a live trivia game show app where you get to win real cash money (it is VERY difficult to win though. I am still waiting). It usually goes live at 9pm. Test it out.
https://twitter.com/notHQTrivia/status/982745104241881088
?Why not catch up on Bytesized for your ears? Take a listen here