A lifehack to break your technology addiction, a NSFW colouring in book, how to smell colours without drugs, why Snapchat is being sued and more. All that and a bag of chips in this edition of Bytesized.
If you want to break technology addiction, then turn your screen grey
Senior Editor of The Atlantic uses colour psychology to lessen the time that he spends on his phone. On the iPhone you can set the colour profile to greyscale. He says his phone looks like it is broken, but it is for a good cause.

Taking adult colouring in to the next level with dick themed colouring in books
PEN15 Club: Members Only Coloring Book. This reminds me of Superbad where Seth tells Evan about his dick drawing obsession.
When I was a little kid, I kinda had this problem. And it's not even that big of a deal, something like 8 percent of kids do it. For some reason, I don't know why. I would just kinda… sit around all day… and draw pictures of dicks. – Seth from Superbad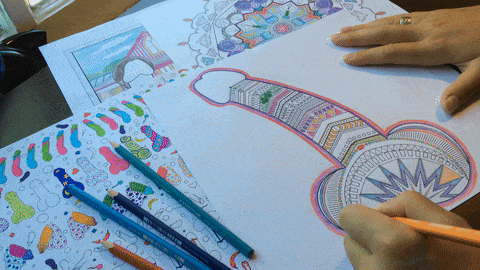 Kid's don't do drugs, do this – it lets you smell colours
Synethesia is the ability to smell colours and see sound. To achieve this you would usually have to take hallucinogens, but thanks to this contraption, you can do it sans drugs. Read more about the science behind this mask that lets you experience synethesia here. 
Don't do stuff on your phone while driving. That means no tweeting, snapchatting or sending What's Apps. And here's why…
Teen takes Snapchat photos to show her speed, crashes and now the victim is suing Snapchat
So in Snapchat you have a fliter called Speed Overlay. An 18 year old kid took her parents' Mercedes out for a spin and reached 107 mph (172 km/h) to see how high the speed could go. She drove into an Uber driver. The victim is not only suing the driver but Snapchat as well for negligence. The driver did however take time to share her experience on Snapchat. 
If you're just getting started with Snapchat, check out our ed's guide here. 
Time releases the 50 most influential gadgets of all time and this dude wins at life
@SavedYouAClick@TIME Which number is the Fleshlight? If its not on the list, the list is bullshit

— Derek (@KentuckyBlacc) May 3, 2016
To read the entire list of the most influential gadgets, click here. 
BONUS: with the colder weather spend more time indoors playing awesome games like TonPlayGo. Share your score with TechGirl, we would like to try and beat it. 😛