This month has probably been one of the toughest of my life yet I've also laughed a lot, adopted a hedgehog, and grown even closer to my friends and family. I opened a bottle of dessert wine two nights ago because 1) I ran out of real wine ages ago (and am too cheap to pay R300 for a bottle of wine that usually costs R80, also don't want to buy on the black market) and 2) I really needed a drink. It's a fancy Waterford dessert wine and they dry the grapes on hay. It's delicious but unlike regular wine, you can only have a little. #LockdownLifeProblems
Some news to make you seem cool when you're waiting for someone to join the Zoom call that was supposed to start 5 minutes ago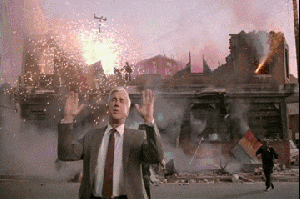 Let's explore life through the new normal
man I miss precedented times

— julia reinstein 🚡 (@juliareinstein) May 18, 2020
The new normal: Masks
Somewhere in Seapoint there's a wild Karen in her Live Love Laugh mask, angrily pushing her trolley through Woolies #LockdownSA

— Micheline du Toit (@Cashmere_Tart) May 20, 2020
Saw someone I knew but didn't want to greet on my walk this morning and they didn't recognize me – see how important it is to wear your mask when you leave the house?

— Gilli Apter (@gillog) May 19, 2020
People are like "how are these people refusing to wear masks in stores" but when I worked in retail people would regularly take a dump in the dressing rooms so what I'm saying is maybe lower your expectations for humanity

— Amber Sparks🪓 (@ambernoelle) May 19, 2020
The new normal: Deliveries
Today the couriers delivered my vitamins and said they needed a picture as they aren't taking signatures. So there's me posing and he's like:"Not of you madam the package." 😁😁🤦‍♀️

— Elsje Neethling (@ElsjeNeethling) May 20, 2020
Meet the llama delivering groceries to seniors in lockdown 🦙 pic.twitter.com/DSN6whM23x

— NowThis (@nowthisnews) May 19, 2020
The new normal: Video calls
zoom needs a button that plays wrap it up music like at the oscars

— Ben Rosen (@ben_rosen) May 19, 2020
The new normal: taking trolling to a new level to bring joy to others because something sh*tty happened due to the 'rona
The signs are what make this video for me. Like even if the realtor muted the sound, it would still be ruined.
Our letting agent asked us to make a video of the flat we are basically being forced out of. I wish them the very best of luck. pic.twitter.com/h3fcOw657w

— Sandy Batchelor (@sandybatchelor) May 17, 2020
Flexing with Smeg
I love checking out what is trending on Twitter. Sometimes I'll click on something and wonder why it was trending. Usually, I am very wrong. This week Smeg was trending and it was all because of one tweet.
Being single can be painful, today I wanted to surprise someone in bed with a cup of cappuccino and I just remembered I am single. pic.twitter.com/M4nt0lYxaJ

— Cardinal Ndiks Gatsheni (@Ndiks17) May 18, 2020
The comments were a gift that kept on giving. If you're fancy would you be drinking instant Cappucino? Surely your countertop isn't set out like that because how would you get to the sugar behind the liquor? It's interesting that all the liquor labels are facing the camera. You know perfectly legitimate comments.
Do you think it's possible to own Smeg appliances and not always include them in pictures?

— Uncle Gwej (@MrGwej) May 18, 2020
And as always, someone then went and did this. The expensive milk gets me. Genius!
About to surprise someone's son with morning coffee in bed. ☕🥰💫🤗💕 My SMEG has a smiley face ya'll and it's pink in colour 😁 😋 💝 💃🏾☺️ pic.twitter.com/JjxXSbLP6E

— Qwathikazi👑 (@ingasebata) May 19, 2020
Someone else that was trending on Twitter this week? Bianca.
Coconut Kelz gets the final word on #BiancaMustFall
TL;DR A Miss SA hopeful tweeted the N-word a couple of years ago and after trending on Twitter, has since retracted her entry.
Omg here we go again 🙄🙄 Hands off #Bianca! You can't say #BiancaMustFall, YOU must fall! Leave my girl alone! pic.twitter.com/tfDW4xlLSK

— Coconut Kelz (@CoconutKelz) May 20, 2020