There are two types of people in this world, those that cried when Mufasa died and those that didn't. Which one are you? Let's find out in this week's edition of Bytesized.
The Lion King
I still haven't watched the live-action version (my sibling and I plan to go next weekend), but if you need a refresher (and a laugh) watch the version below.
The Lion King (1994) in full! pic.twitter.com/gEMEaPk9ZA

— Cas (@kn0nker) July 27, 2019
And everyone remembers when Mufasa died (for the record I didn't cry at the time but watching it in HD might change that), but there are people out there who still have all the feels.
Still 'Scarred' for life
Saw the new Lion King trailer and it's basically a trigger to everyone who ugly cried when the first movie. Dunno if i can deal with watching Mufasa die again. And in HD this time jirre

— Daddy (@LifeisSavage) June 26, 2019
https://twitter.com/CaitlinJStout/status/1153117809607696385?s=20
The first time my sister saw lion king she was 5 and had an asthma attack when mufasa died, because she cried so hard. She's 20 now and we saw lion king and I heard her take out her inhaler and whisper "it's ok your an adult now and u know he won't wake up!" And take a puff. 🤣

— alphachey🌵 (@CheySingleton) July 22, 2019
And then there are those that have no idea and have to deal with the heartache for the first time
Me at everyone watching Mufasa die in the Lion King for the first time 🦁#TheLionKing pic.twitter.com/KCyyoqQUxS

— Vick (@VictorGainz) July 19, 2019
SEE MORE: Sam wrote a cool article showcasing the latest Lion King Pandora offering, which you can see here.
This video is a metaphor for life. Sometimes you're the toddler, sometimes you're the baby
This kid is in the zone. It's funny coz the lil' one has no idea what's coming.
THERE CAN ONLY BE ONE pic.twitter.com/CXU8GbKBH5

— Chris 🎬 (@illucifer) July 30, 2019
Speaking of babies… (see what I did there)
[at a gender reveal party]

me: if blue confetti comes out of the pipe it's a boy, and if pink confetti comes out it's a girl

guests: three, two, one…!

[I press the button. Water shoots out of the pipe. The room floods]

me: that's right bitches, gender is fluid

— ruby🦎 (@roobeekeane) July 28, 2019
On getting older
WORD OF THE DAY: NEANIMORPHIC – the quality of looking younger than your actual age.

— Quite Interesting Facts (@qikipedia) July 29, 2019
I like to think I had some neanimorphism but that all stopped when I started going grey. I've always dyed my hair (probably since I was 14) but it was never to hide grey hair. That process has now started.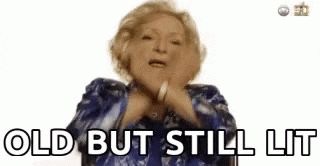 Wanna listen to some music while watching old videos?
Then Poolside.FM is for you. This is what the internet looked like back in the day kids.