These past few weeks have been good and bad. Let me explain. Two weeks ago my chinchilla Maurice got ill and died suddenly. This was after I had gone through a few tough weeks where my hedgehog Axel wasn't going to make it, but luckily pulled through and is doing fine now. Losing a pet is so tough and I miss that furball like crazy. Work has been going well with some positive changes and I've had some amazing freelance opportunities. I got to go away with my family to Mabula and we had fun celebrating my sibling's birthday. I guess in the words of Billy Talent "Cause this is how it is and this is how it goes". Now that I have that off of my chest, here is all you need to know about FaceApp and more.
People have been sharing this on Twitter and just watching it gives me anxiety
<Insert anxiety and stress-inducing activity here>
Starting up in Africa. pic.twitter.com/Yt52Rn05w2

— iAfrikan.com (@iafrikan) July 17, 2019
Follow this account if you need to drink more water
find the one who doesn't drink water:

👩🏻👩🏼👩🏽👩🏾👩🏿👩🏻👩🏼👩🏽👩🏾👩🏿
👨🏻👨🏼👨🏽👨🏾👨🏿👨🏻👨🏼👨🏽👨🏾👨🏿
👧🏻👧🏼👧🏽👧🏾👧🏿👧🏻👧🏼👧🏽👧🏾👧🏿
👦🏻👦🏼👦🏽👦🏾👦🏿👦🏻👦🏼👦🏽👦🏾👦🏿

can't find them?

that's because its the one who is reading this tweet right now so drink water now you stupid bitch.

— reminding you to drink water (@drinkwaterho) July 16, 2019
For the 100th time..

NO DRINKING SOMEONES BATH WATER DOESNT COUNT.

NASTY ASS, GET SOME CLEAN H2O IN YOUR SYSTEM.

— reminding you to drink water (@drinkwaterho) July 17, 2019
And if you're wondering WTF they are talking about, then the next part is just for you
An Instagram Star put her bathwater up for sale & people are not only buying it but drinking it too!
Bell.Delphine or Gamer Girl (4.5m followers) sold her bathwater in bottles for $30 and it sold out immediately! Apparently, it was all for the thirsty gamers out there.
https://www.instagram.com/p/BzY_MYppbSt/
FaceApp because we learned nothing from Cambridge Analytica
By now you've probably seen what your friends, family, and acquaintances will look like when they get old thanks to FaceApp. We even tried it at the office and I look like what can only be described as a tannie. I was horrified and decided to NOT send it to my BF so he couldn't see what the ghost of Christmas come had to offer. I looked terrifying. Some celebs, however, looked much better.
Their caption is pure gold. You have to be an original JoBro fan to get the reference though…
But these win…
The power of #FaceApp is useless against Paul Rudd's ageless cosmic sorcery. pic.twitter.com/IJPVTj7VIc

— Paul Duma (@PaulDuma) July 17, 2019
I personally didn't download the app, but a lot of colleagues had. And then I saw the "The Russians have data on over 150 million people" and "Read the terms and conditions before downloading the app". So I decided to go Walter Cronkite and become an investigatory journalist.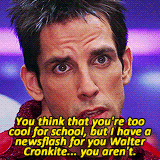 Here's what we know so far
FaceApp has been downloaded over 100 million times on Google Play
FaceApp's parent company is Russain-owned Wireless Labs
The terms and conditions are quite clear

They need access to all of your media on your phone

While they could technically use it for nefarious reasons, your images will probably only be used to train the AI beast
And now this…
"I swear to Cod, if that plankton forecast isn't on my desk by end of play, you're fucking fired Mike!" pic.twitter.com/ieeInNfQ8z

— Crap Taxidermy (@CrapTaxidermy) July 17, 2019