This wasn't supposed to be all about The Gram but it turned out that way. And you can't really talk about Instagram without mentioning influencers. From virtual influencers like digital models, DJs and a hipster Col Sanders to fake influencers to influencers that ask their followers to fund a vacation (wtf), this week I take a look at what the influencer world has to offer. And remember folks, real influencers don't have the word influencer in their bios.
?These virtual influencers have WAY more followers than you
Yes, they aren't even real people and they have more followers than us mere mortals will probably ever have. Here are some virtual influencers you may want to start following.
A hipster Col Sanders. I especially love the Dr Pepper posts.
And here is the world's first digital supermodel.
?This couple asked their Instagram followers to pay for their trip to Africa and it didn't go so well
Another beautiful day off wanted to show their followers the real world and what travel can do for you, but needed some help. They needed €10k (R161k) and explained that the money "will go towards the bike and gear, food and accommodation (when needed), internet and SIM cards in every country to keep you up to date, insurance, emergencies." People were not having any of it and instead told them to get jobs.
?JustAConstructionGuy becomes an influencer with more than 500k followers & counting
I saw this tweet doing its rounds on the internet and couldn't wait to read more about this story. A dad who works in construction set out to become an influencer and made it!
However just as soon as I had bookmarked the story, it turns out it was an ad stunt for Cuvee Coffee. Is nothing sacred anymore? I was so eager to believe this wholesome story that I checked out their blog and realised it's not all bad. Omar, really does work in construction, likes cigars, whisky and coffee and is keen to keep working with the brand. What really got me was when Omar apparently sent a text asking "Is 100 000 followers good?" Yes, Omar that is really good.
?Taylor Swift wears lab-grown diamonds in her latest video
You know how you get lab-grown meat, well you can also get lab-grown diamonds. And this manmade bling features in Taylor Swift's latest music video, You Need To Calm Down. Anabela Chan designed Taytays heart-shaped earrings.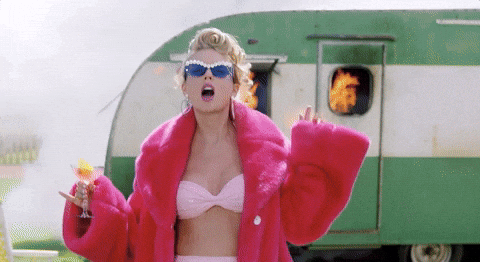 ?Facebook plans to make it rain
Just when you thought Facebook couldn't get any bigger, they announced that they are getting into the world of cryptocurrency.
Libra will allow consumers to spend through Messenger, Whatsapp and of course Facebook.
Visa and Uber have each invested $10m into the Libra Association and hope to convince businesses to accept payment.
It will launch in 2020.