I love animals and especially love pigs. So when one makes headlines, I know it is going to be good. Meet the pig that has just under 20k followers AND paints. If that doesn't blow your hair back, then check out the new Marmite flavour that will have you puking in your mouth, find out what makes cheese better and more in this week's Bytesized.
READ THIS: if you need to justify buying LEGO
??Pigcasso: a pig that paints
Every morning I love getting my Business Insider Whatsapp because it is filled with amazing stories and makes excellent use of emoji (I also enjoy the Farmer's Weekly Whatsapp) and the other day a pig-related story caught my attention. I don't eat pork because I lurve pigs so whenever I see something that involves a pig, I'm there.
Pigcasso, a rescue pig in South Africa, painted one of the best selling limited edition Swatch watches. I own two Swatch watches and while I haven't worn a watch in a while, if I had this one, I would wear it immediately. I went to the website and thought a print by Pigcasso would be a nice addition to my art collection, but starting at R19.5k a pop it was a hard no from me (although all the money does go to the animal sanctuary).
?WTF? Peanut butter & Marmite are dating now!
Apparently, there are people out there who actually put peanut butter as well as Marmite on their toast voluntarily. And because there is an apparent demand, this culinary abomination will soon be available as a product. And I say all of this never having tried this flavour combo.
As much as I love peanut butter and marmite separately this seems like a hard no. https://t.co/GXsRL2gtZ5

— Just Jade (@galoobzzz) March 23, 2019
?Our very own Bonang released her own MCC (sparkling wine) and it had a typo on the bottle
Twitter made a big deal about it because when she released her book last year, it too was full of typos. And instead of crying a river, Bonang took this as a business opportunity. 10/10 would buy that wine.
I'm gonna name my new white wine 'Elegent'. Watch.

— Bonang B* Matheba (@bonang_m) March 21, 2019
?Science says hip hop makes cheese taste better
While I didn't anything could make cheese taste better (Mmmm cheese), apparently playing hip hop while the cheese matures makes it taste better. And that my friends, is science.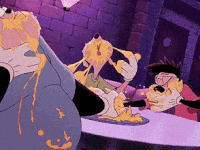 Researchers in Switzerland played different kinds of music to cheese and found that the cheese that was played A Tribe Called Quest tasted much better than its counterparts that were submitted to the likes of Mozart and Led Zeppelin.  Full disclosure: I had no clue who A Tribe Called Quest were and realised upon Googling them, that they are kind of a big deal and that the rapper Q-Tip is a member.
?The gif/jif debate has reared its ugly head AGAIN
In our office to avoid choosing a side, we say guh-jiff. But I have chosen a side and say gif (as in give). Apparently the creator of the gif has said that it is pronounced "jiff" but he is wrong.
| ̄ ̄ ̄ ̄ ̄ ̄ ̄ ̄ ̄ ̄ ̄|
Gif is pronounced
with a soft g
|___________|
(__/) ||
(•ㅅ•) ||
/   づ

— Dictionary.com (@Dictionarycom) March 25, 2019
If in doubt just do this…
I pronounce gif like the Afrikaans word for poison.

— Ryan (@PaikinAndEggs) March 26, 2019
?This is all of us after 30
[texting my friend]

me: sorry I missed your party yesterday

friend: it's today actually

me: read this again tomorrow then

— Scientist (@TweetPotato314) March 21, 2019
Have a great weekend everyone and thanks for reading. If you like what you see here, then please follow me on Twitter @galoobzzz where I sometimes tweet stuff like this as well as SEO related info and more.