A few weeks ago I received a belated birthday gift and it combined two of my favourite things – reading and sloths. Be More Sloth by Alison Davies is a self-help guide on how to slow down by following the ways of the sloth. Yes really.
And even though it was a belated birthday gift, it came at the perfect time. I can't believe there is less than a month left until we say sayonara to 2018. Where has the year gone? I've gone away a lot more, which was one of my goals, and I'm really happy I've already achieved it but I really think I need to slow down and take it all in especially when it comes to working. And that is exactly what Be More Sloth tells you how to do in a hilarious full of sloth facts way.
SEE ALSO: Audiobooks aren't cheating (and here's when they're better than reading)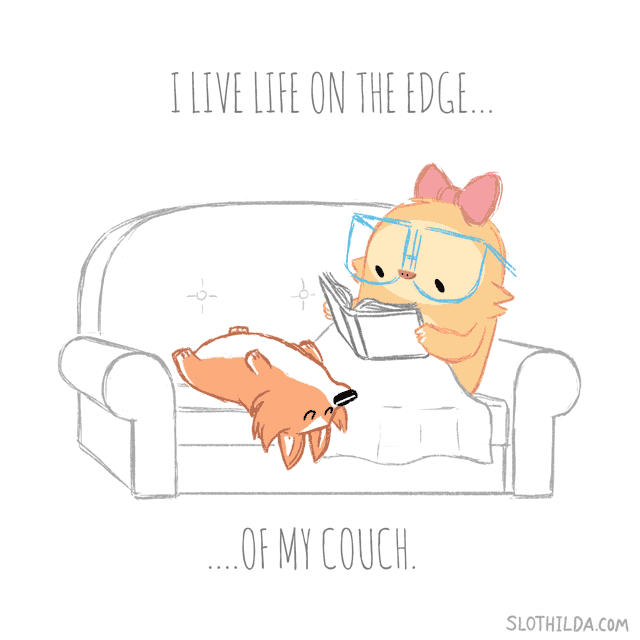 I love reading quotes. I always check to see who said it and if that person actually said it (side note: there are so many BS quotes on the interwebs and they are often attributed to the wrong people, do your research so that you don't look like a dumbass. Here's an example below).
State of this shite. If you're a "moon" please remember that the moon only shines because the suns light reflects off of it. If you're a sun, you're safe. If you're a moon, you are nothing without someone else. Sick analogy, you fucking dweebs. pic.twitter.com/cijtamdmp3

— Daniel Sloss (@Daniel_Sloss) October 22, 2018
But I digress, I actually loved the quotes in this book, my favourite being from one of my favourite authors:
"The one thing that you have that nobody else has is you. Your voice, your mind, your story, your vision, so write and draw and build and play and dance and live as only you can." – Neil Gaiman.
The quotes are thought-provoking and useful even if you quickly page through the book and focus on one that catches your eye or resonates with you. 
Another thing I liked about Be More Sloth was the practical tips and exercises. Don't get me wrong, I did feel like an idiot doing some (like opening your heart which involved imagining colours and whatnot), but I actually felt better afterwards. While I won't be doing all of these regularly, there are some that I will keep at. Like giving yourself a hug (not really, but a virtual one by making sure you write down all of your achievements and acknowledge them).
[Tweet "A group of sloths is called a bed. "]
You can read this book from start to finish or keep it at your bedside, in the loo (better than being on your phone) or on your coffee table and pick it up and turn to a chapter you think will interest you when you need to slow down or just want to feel better if you're feeling down.
Should you read Be More Sloth?
I've read a lot more fiction than non-fiction this year and it has been wonderful. This book is light-hearted but gets the point across that we need to slow down. Although I loved the quotes, facts and pictures (I want to get them printed and hung on my walls) sometimes it did feel like a bit of a stretch. But if you're looking for a book that will make you smile without sounding preachy while at the same time giving you practical tips on how to live a more stress-free life, then this is it.
?Still here? Here are more book-related articles that I think you might like: