I've only had 3 hours of sleep because I started reading a YA novel last night at 9 that I only stopped reading at 4am because I fell asleep. With only 30 pages to go, I had to wait until after work to find out what happens at the end. It didn't disappoint. The last time this happened was when I read Twilight. The book? One of  Us is Lying. And even with my binge reading on a school night, I still kept an eye on the internet to make sure you have all the important online news in snackable bytes. Here's this week's Bytesized:
READ MORE: How to manage your money like a f%$ grown up (June book club pick)
?157 new emoji and the best are the animals
These include a toilet roll, tooth, superheroes and gingers. I am sure gingers are happy as they are now represented (apparently the Scots are over the moon), but to me, the only thing that matters is the animal emoji.
If you have 2 minutes to spare, you can watch a video of all of the new emoji. But like I said, let's get to the animals, so scroll on.
I'm most excited for the racoon, llama, hedgehog and T-Rex. I have no idea when I will use these, but still, I'm excited. These new emoji will be rolled out throughout 2018. I don't have these yet ???.
Check out my racoon Twitter moment (guess who has two thumbs and recently discovered Twitter moments?)
Also, AP has bravely come forward and said that the plural of emoji is emoji and not emojis. Now you can go forth, correct anyone who says emojis and fuel your superiority complex.
?Why context is very, very important
A whale died because it swallowed plastic bags. And the image below shows why context is very important. It's funny in a I'm-going-to-hell-for-laughing-at-this kind of way.
woah i wonder what the other eight will be pic.twitter.com/WTKDo7CaXl

— James Colley (@JamColley) June 3, 2018
?Crayola needs your help naming a new colour
I've always wondered where colours get their names from. This is particularly true when it comes to nail polish. Essie has Sand of a Beach and Sorbet has Blue Me a Kiss.
Then we also recently got Millenial Pink and apparently, it is making its way to our avocado toast.
And now we are in an era where Gen Z yellow is a thing. It's almost like Minion yellow, which is also an actual colour. But back to Crayola, what would you name this blue? I'd go with Blue McBlueFace in an ode to Boaty McBoatFace. This is why we can't have nice things.
Crayola needs your help naming its newest blue crayon: https://t.co/FhR8eErqF7 pic.twitter.com/09KohoMY2k

— Creators (@CreatorsProject) May 31, 2017
?What you need to know to sound like you know about Apple's WWDC 2018 update
While Google had its keynote a few weeks ago, Apple hosted their own this week. It was mainly a software-focused update, but just so that you sound cool when someone mentions it (and if they own ANY Apple product, it will be mentioned), here's what you need to know:
Limit the amount of time you use an app for and see which apps you spend the most time on
Siri got a much needed update (she now integrates with other hardware)
Memoji (and not iMoji) that allows you to create emoji that look like you
FaceTime now has group calling for up to 32 people
With iOS12 you can stop Facebook from tracking you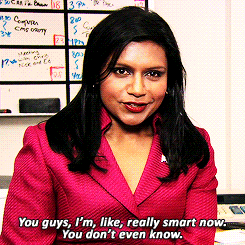 Take a listen to Bytesized for your ears on iTunes