#Sponsored
I need a hero. An Android Oreo hero. The latest update brings us the fastest, smartest and most powerful version of Android yet. And just like your favourite superhero, Oreo is here to save the day with its new and improved superpowers (and did we mention Android Oreo is a girl?). Here's what you can expect from the latest Android update.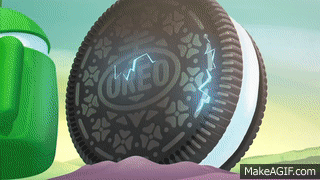 1. Extended battery power
Say goodbye to unnecessary battery drainage because Oreo restricts apps from running in the background. Now you'll have more battery life for important things like calling for backup or saying hi to mom. Remember real heroes know when to ask for help.
2. Preview or snooze individual notifications
Notifications can take your attention away from important things like your high score game, interesting WhatsApp conversations or Instagram stalking sessions.
Notification dots allow you to view app notifications from the home screen and from there you decide what to do. Either view the notifications or snooze them.
The snooze individual notifications feature works just like the snooze button on your alarm clock. Keep on hitting it until you are ready to deal with the real world.
ICYMI: Oreo used the solar eclipse to announce the Android update
3. Picture in picture mode
If you're going to save the world, you probably need to check your calendar and find the location while watching Dr Evil's message and hearing his demands. Picture in picture (PIP) mode let's you use your phone while watching a video, or use any two apps at once on the same screen. This is multitasking at its best.
4. Security is a big deal
Protect what's most important with Google Play Protect which scans your apps to keep your device and data safe. It could probably even help keep your secret identity safe. Here's looking at you Spiderman.
5. Save time and data
Autofill remembers app logins and form info, so that you can save time. Your device will also boot up twice as fast. WiFi Assistant not only auto connects you to open WiFi, it also secures your connection. Even superheroes don't want to get nasty data bills and despite what you may think, superheroes have budgets too.
BONUS: 60+ new emoji
You know you've always wanted to write a message using a T-Rex emoji because that would make you a superhero. With over 60 new emoji, talking to your friends has never been more fun.
When can I get my superhero powers in #AndroidOreo form?
Android Oreo is available for Nexus and Pixel and will be coming to other flagship devices, like Samsung, LG, Huawei, etc. by the end of the year.