The Lenovo Yoga 510 is one good looking notebook. It is sleek, lightweight and in my favourite colour, black. Weighing only 1.8kg, it fits perfectly into my backpack and the charger is also small. So small that it reminds me of a phone charger. And like a phone charger, it has possibly one of the best inventions ever, fast charge. In only 2.5 hours you will have a battery that lasts up to 8 hours. Which means no more fighting off freelancers at your favourite coffee spot for the seat with access to the plug.
SEE ALSO:  What interns get paid at top tech firms (hint: probably more than you)
Windows 10
It uses Windows 10 but not in an annoying way. You can chat to Cortana (Microsoft's Siri), have the fanciest Start Menu, browse the net with IE… that last one was a lie. You get to browse using Microsoft Edge, which is nothing like Internet Explorer (thank goodness). Another cool feature is continuum mode, which allows you to switch from a laptop to a tablet and vice versa seamlessly.
YOU MIGHT ALSO LIKE: So why is Cortana female?
What I liked about the Lenovo Yoga 510:
Rapid Recharge – it takes only 2 hours to charge and lasts up to 8 hours.
Full HD Display – 14" (1920 x 1080) bright, detailed display that is perfect for watching Kevin Hart: What Now. (If you haven't watched his Netflix special, do it now).
Amazing crisp sound – this is due to the Harman technology. 
The Touch Pad – I don't use a mouse. I rely on keyboard shortcuts and the touch pad. This touch pad is very responsive which is how I like my touch pads.
What I thought was a bit meh about the Lenovo Yoga 510:
I couldn't find the on button and actually had to read the manual. FYI: it is on the side near the USB ports. This has more to do with my intelligence than anything on Lenovo's part. But still.
The price tag – at a RRP of R10 000, this isn't a budget notebook.
360 degrees – while it is rather fun being able to bend a laptop (at first I thought I might break it), after a while I didn't really see the point. I guess I'm just used to angling my laptop or placing it on some books. And if I need a tablet, which isn't often, I use my iPad.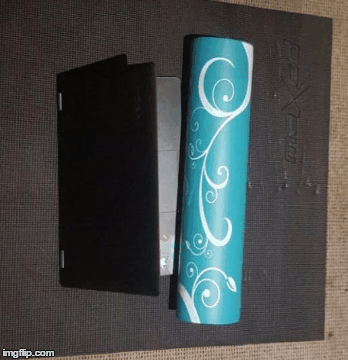 ICYMI: How to unfriend like a pro
So should you get the Lenovo Yoga 510?
If battery life is important to you (and let's be honest who isn't it important to) then the fast charge and 8 hour battery life is a plus worth paying for. With crisp display, ample storage (some have a 1TB drive) and the ability to be a notebook or tablet, the Yoga 510 is a great notebook, but with a price tag of about R10k, this is not something I would bend over backwards for.
DISCLAIMER: I was given the Lenovo Yoga 510 to review and it has gone back to it's owners to enjoy a life of traveling to other reviewers.