#SPONSORED
BFFs come in all shapes and sizes but usually you only have one. It's time to show your bestie some love with an awesome token of appreciation. Here are 5 awesome BFF gift ideas and the best part? You can buy them online and ship them to you. Easier still – you can use PayPal to pay which will make your life sooo much easier.
I'm a big fan of buying gifts online because you avoid the crazy Christmas shopping centre rush and are able to just have the items delivered to your door. PayPal also is extremely secure so purchasing online doesn't have to give you sleepless nights and concerns about your credit card details getting swiped. If you want to set up a PayPal account and get shopping visit the PayPal website.
1.Something for their phone 
Add any picture you like to create a phonecase that your bestie will love. I obviously chose one of my furkids. Get yours from Phonecase for R279 and they do covers for most phones, so older models aren't a problem. (Except Blackberry…those will be a problem).
2.Something for trinkets and jewelry
Your BFF will think of you every time they get ready in the morning. There are a variety of fun animals to chose from, but this giraffe takes the cake (mostly because it reminds me of a llama). Get yours at Superbalist, R179.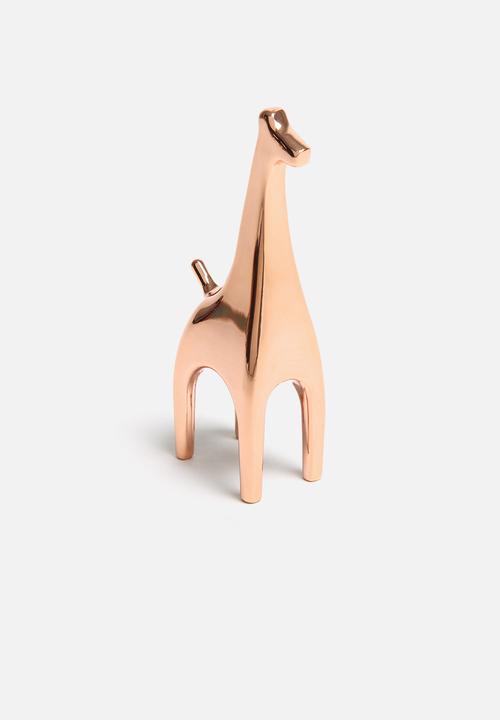 3.Something to wear
This hand printed scarf is not only super soft but can be used in summer and winter. Scarves are so versatile – use them as a sarong, wrap and of course as a scarf. Get one from Skinny Laminx for R495.
4.Something sentimental 
A selfie is worth a thousand words. Get on social media and stalk your way to the top by finding pics that will mean a lot to your BFF. Check your albums and get the pics printed. Get a bunch of polaroids, stickers (coming soon), strips or a poster printed from Nifty 250. Prices start at R5 but a min order of 30 is required (R150).
SEE ALSO: Where to get your photos printed on wood, as polaroids, magnets and more. 
Get crafty with polaroids: I went all DIY and painted a strip of wood with Anne Sloane chalk paint, hammered a few evenly spaced nails and hung bulldog clips from each one. I then attached a polaroid using the bulldog clips. I make sure I get snaps of all of my friends to put up.
5.Something to giggle at
Game recently launched these cute Jamoji Bluetooth Speakers. They make for great desk speakers because they'll make you giggle just looking at them but also provide banging beats to keep you entertained. Your BFF can also set them up near the swimming pool for the December break to brighten up and increase the volume on their summer holiday.
6.A freaking awesome onesie 
I recently discovered Afreaka Clothing and they make adult onesies! There are the lame usual ones that come in a variety of colours, but reconsider because they also have animal adult onesies. Don't get me wrong, these are absolutely ridiculous but in an awesome way. Onesies start from R800 and come in a variety of sizes.