These Amazon reviews are funny AF
A friend at work published an amazing article showcasing some weird products that you can actually buy on Amazon. Although the products are classic (Uranium ore anyone?), the reviews are even more so… And this is how I discovered the wonderful world of discovering weird stuff you can buy on Amazon and reading Amazon reviews.
Check out the inspiration for this article, These Funny Customer Reviews Are Guaranteed To Make You Laugh, here. 
Get Live Medical Leeches on Amazon
The product description alone made for great reading, but the reviews are the cherry on top. 
These Clinical Bloodsucking Leeches are shipped from leech farm suppliers at wholesale prices. You may also keep them at home as Pet Leeches. All Leeches are shipped on Mondays, to best survive the journey – dont delay to buy your leeches before they are completely gone for the season. – Product Description
The Manly Art of Knitting & More on Amazon
A co-worker sent me a link to The Manly Art of Knitting, which you can buy here, and it was the frequently bought together suggestion that got me. I collect books, but this book alone has lead me on a new quest: To collect the most random books that I can find.
SEE ALSO: guy reads books with highly inappropriate covers on the subway, records reactions in this edition of Bytesized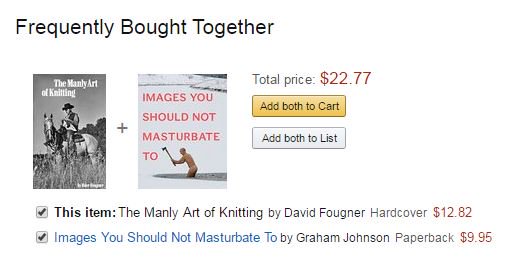 Goats in Trees Calendar on Amazon
This tweet sums up my obsession perfectly.
On reading the Goats In Trees calendar review to the office
"This is why they won't give you wifi" @AgencyQuotespic.twitter.com/gTCNF5guo0

— Jade Brennan (@galoobzzz) July 7, 2016
The Amazon movie reviews don't disappoint
Forget IMDB, I'm using Amazon movie reviews as my new movie watching barometer.
The Wolf of Wall Street. pic.twitter.com/tpA5syzMVG

— Amazon Movie Reviews (@AmznMovieRevws) December 16, 2014
Drive. pic.twitter.com/iFHmtVqOTi

— Amazon Movie Reviews (@AmznMovieRevws) June 30, 2016
The Little Mermaid (1989). pic.twitter.com/pqQv2MI2vA

— Amazon Movie Reviews (@AmznMovieRevws) June 17, 2016