Cooking is a big deal and cooking shows even more so. And while cooking a gourmet meal can seem challenging, there is no need to take it so seriously. Learn how to cook while having fun. Here are the best  funny food channels on YouTube.
1 chef and 3 ordinary guys make delicious food in a way that will crack you up. You will also learn how to make food. Win win.
The Ultimate (insert food here) Battle videos are the best. The guys come up with their own versions of the chosen food but sabotage each other along the way. Think MasterChef meets ………….
Also watch Big Night In, where they show you how to make a delicious meal for a group of friends or family. Watch: Ramen Recipe
Best Food YouTubers: My Drunk Kitchen 
MyHarto has a lot of YouTube shows on her channel, but the best (and food related) is My Drunk Kitchen. As the name suggests, the host drinks while making food. Expect awesome puns along the way. Let's Taco Bout It is one of her earlier videos but is still hilarious. It's also cool to see how their styles have changed.
Also watch the other videos, like this one with Grace Helbig, where they both answer questions from their fans. Not food related but still funny.
Best Food YouTubers: Raw Vegan. Not Gross
Vegan is where you don't eat or use any animal products. Raw is when you don't cook any food. You use a dehydrater and fridge instead. Laura Miller shows us that raw vegan food can be delicious.
After watching this video, I actually want to try and make it. It looks really good and healthy (I can justify eating cake eat this way). Also watch how to make raw Pad Thai. 
SEE ALSO: The perfect Star Wars inspired meal (Sam puts on a Storm Trooper mask and cooks PLUS there is a light saber) 
Best Foodie YouTuber: How to cook that
Anne Reardon makes awesome cakes, desserts and anything to do with chocolate. Her cakes are amazing and she makes it look really easy. I want to try and make one, but I think mine would end up on Pinterest fails. A girl can dream.
While the series isn't really funny, it is awesome.

Why not watch the social media cake playlist. 
Best Foodie YouTuber: You suck at cooking 
Cooking made very simple and this channel had me at you suck at cooking. It is a no frills cooking series that will make you giggle, and sometimes you will even learn how to make food.

Check out Roasted Pepper Impressions from you suck at cooking. 
Best Foodie YouTuber: Epic Meal Time
This foodie channel is awesome, but Harley Morenstein, the host, has an equally awesome channel. Epic Meal Time covers all things food. Watch Carboload below. Harley comes across as intimidating with hilarious results. 
And remember folks…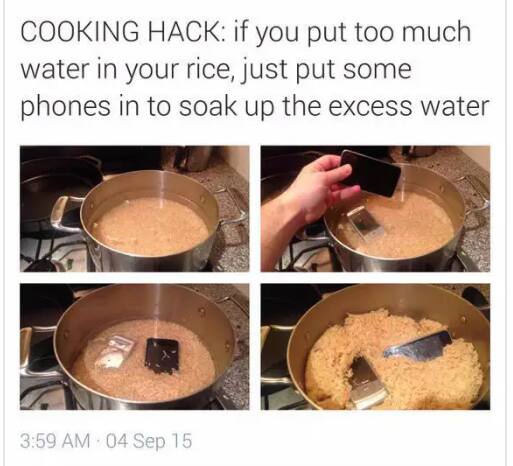 [Tweet "Fun Fact: watching cooking shows actually increases your risk of putting on weight. "]
What foodie shows do you watch on YouTube? Let us know @TechGirlZA